05 Sep 2023
Posted By : TryTrabby
Top Must do Activities await your adventure in Andaman & Nicobar Islands
While planning for a holiday in the Andaman, your checklist will definitely be spending a lot of time at the splendid beaches and going underwater to see the stunning and colorful corals and sea life.

Suffice to say that your trip to Port Blair – Andamans will not be complete unless you indulge in the various water sports that this island has to offer.

There are multiple choices for you to experience. For both swimmers and non-swimmers alike. So don't be disappointed if you are a non-swimmer, if that doesn't stop you from trying and you are well-prepared to have the adventure of your lifetime while on this island..

There are places like Water Sports Complex, North Bay and MG National Park at Port Blair and Beach No2 and Elephant Beach at Havelock - all offer guests a variety of underwater activities to indulge in.
Scuba Diving:
That's perfectly fine and you don't have to worry at all – Since Andaman offers an once in a life time experience called Scuba Diving for beginners wherein you don't have to be a swimmer, an instructor will come along with you during the dive the entire time and also do note all the equipment's required for the diving will be provided to you i.e. the Wet Suit, Scuba Tank (Oxygen tank) and diving mask etc.

You will be first taught some basic under water signs and how to handle the equipment's and instructions for diving by your instructor on a shallow water.

Once you are comfortable you will be taken underwater, and you can enjoy being under the endless ocean watching wonderful fishes, corals and the total experience will last for 15-30 mins.

You can check with the team if you would like to get a picture of you being underwater. Do note there will be an additional charge applicable towards the same.

You can book the same in advance or directly go to Water Sports Complex or during your trip to North Bay Island or MG Island at Port Blair or at Havelock (Beach No 2 multiple sites available and at Elephant Beach).

Don't miss out on this wonderful lifetime experience while you are in Andamans.
Generally, starts in the morning and you will be done by afternoon. You can do Scuba Diving through-out the year and best time for the activity will be from October till end of April that is when the Sea will be calm and underwater visibility is good.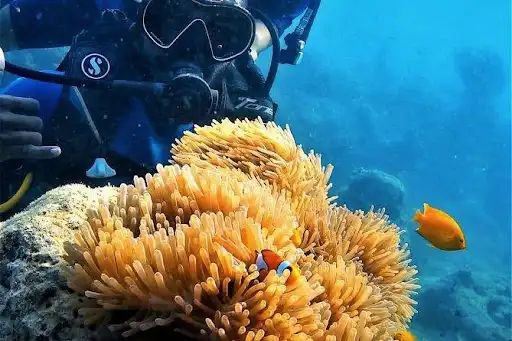 Snorkelling:
Snorkelling is the practice of swimming on or through a body of water while equipped with a diving mask, a breathing tube called a snorkel, and usually swim-fins. This way you can observe the underwater wonders for relatively long time with little effort.

You can put on a snorkel and go for snorkelling on your own if you are adventurous and a perfect swimmer and are comfortable doing this on your own at any beach in Andaman which has clear water.

Snorkelling is famous since the reefs here in Andaman begins at a very low depth, making it easier for people who want to do snorkelling.

There are so many choices location-wise and there are instructors as well at Port Blair as well as Havelock and Neil Island if you wish to go for Snorkelling.

Snorkelling can be done at Andaman Water Sports Complex (Government Run) or North Bay Island or at MG National Park at Port Blair. At Havelock you can do at Elephant Beach with an instructor or at any Beach on you own.

Instructors will not just teach you, in addition they will come along with you to site the most stunning colourful coral-reefs and amazing fishes.

The activity last for about 15 – 30 mins, starts early in the morning and you will come back in the afternoon.
| | |
| --- | --- |
| | |
Sea Walk:
Most people assume that it's the same experience as diving although both are entirely different.

Sea walking is an underwater activity which involves wearing a helmet connected to fresh air while walking along the bottom of the seafloor.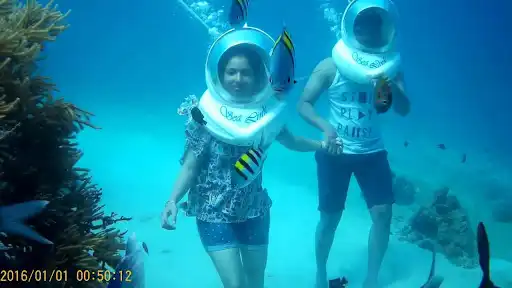 Prefect for those who aren't confident in the water or don't know how to swim or those aren't certified to scuba dive.

Can be done at Andaman Water Sports Complex (Government Run) and as well as at North Bay Island and at Elephant Beach at Havelock.

If you do choose to do Sea Walk, you will have to start in the morning and it takes till 02:00 pm in the afternoon for you to come back. At first you will be taught how to wear the equipment's and some basic underwater signs once you are completely comfortable is when you will be taken to the activity destination. The entire underwater experience will last for 15-30 minutes.

One can experience walking in seabed among the fishes gazing at these ever-colorful Andaman Sea life.
Trekking:
There are quite a few spots and most mesmerizing trails available for trekking on these Islands.

You have Mount Harriet and Chidiyatapu at Port Blair and when you are at Havelock there is a trekking pathway from near Beach No 7 to reach Elephant Beach.

Or you can choose any random path if are an adventure enthusiast and you can explore the dense evergreen forests of these islands on your own trekking.

Do note it is recommended to go along with a guide since most places at Havelock has poor connectivity and even trek trails at Port Blair might have poor connectivity and hence you cannot rely on maps.

Ensure to carry water and snacks along as there are no shops available. Also start early in the morning so that you reach back soon and, in most places, permitted timings ends by 3:00pm.
Kayaking:
Kayaking – a fun water sport. It involves the use of a kayak, a narrow boat with a double-blade paddle to move on water.

You can navigate through the waterways by sitting face-forward and marching ahead with alternating side-to-side paddle strokes.
Did you know: Kayaking was originally invented for hunting.
Do note if you are willing to go for Kayaking activity prior knowledge is not required and instructor you teach you the basics in 10 minutes. Life Jackets are provided.

There are various kayak tours offered in Andaman and for the first-time travelers, this will be an incredible experience. There are multiple choices and once can do Kayaking at Havelock/Port Blair.

By Kayaking on the Andamans you can experience the quietness of the mangroves.

From the starting point you will kayak in the open sea for 10 – 15 mins before reaching the dense mangroves. Paddle along in a relaxed manner for 80 to 120 mins and get to enjoy the striking view of the tropical forests.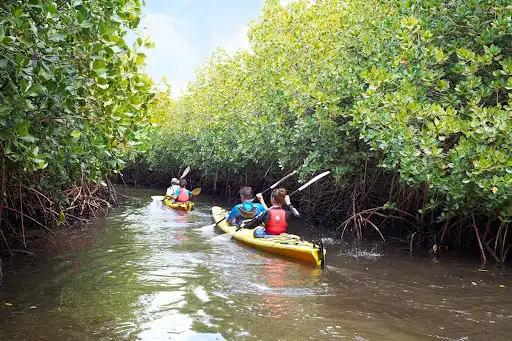 Fun Water Activities:
Apart from going under water (Scuba Diving /Sea Walking/Snorkeling) Andamans offers a lot of fun water activities for those whose thriving for adventure as well.
There are a whole lot of other fun activities one can do and below is the list of a few of the activities.

Glass bottom Boat ride and Semi Submarine – Perfect for those who are hesitant to go underwater yet love to get a glimpse of underwater life and colorful corals.
Jet Skii, Parasailing, Banana Boat ride, Speed Boat Ride etc. for the adventure lovers
Seakart Adventure – you can experience self-drive in the Sea.
Fishing/Game Fishing – quite expensive compared to other fun activities. Andaman is one of the best places for game fishing in India. Its marine life is very rich and even huge fish can be spotted here.
Do note all the above activities are subject to weather condition and discretion of the local authorities and the respective team.
Local Shopping
There are local shops in the market area at Port Blair where you can buy souvenirs from or handcrafted jewelry.

Aberdeen Bazaar is a central marketplace with rows of shops selling souvenirs and trinkets made from locally sourced materials like shell, coconut, wood and bamboo.

Don't miss out visiting Sagarika Emporium - the place is run by the Government and if you want to see some of the best creations by the locals and to buy pretty handicraft items. The same is available at both Port Blair as well as Havelock Island.
Dine Out